Check out this awesome Instabeat mention in designboom.com ! Scroll to the bottom of the article and you'll find us. 
With the emergence of revolutionary technologies built for high endurance and quality performance, professional athletes and sports enthusiasts alike are able to integrate powerful digital devices into their training and workout routines. cutting edge design built for elite level sport is pushing the boundaries of the field and what can be achieved, allowing for a new generation of innovative products that could change the face of sports. wearable gear seamlessly synthesizes internet connectivity, social media, and health monitoring systems, allowing for improved maintenance of strength tracking and a previously unrealized visual, audio and experiential program for athletes, competitors and fitness devotees.
Exemplifying these capabilities and pushing the boundaries in the sport design field is the Oakley airwave goggle, which fuses performance optics with revolutionary technology, changing the way both athletes and enthusiasts experience skiing and snowboarding. a built-in, heads-up display integrates wi-fi, GPS, bluetooth and onboard sensors into the wearable gear, which allows the user to access a vast selection of information transmitted directly to the eye. the instantaneous possibility to view jump analytics — showing distance, height and airtime — maps, speed, temperature, music playlists and the location of mountain-bound buddies, can be visualized through the mobile dashboard. the information is delivered through crisp, widescreen graphics using innovative prism technology, appearing in the bottom right side of the frame unobtrusively as though looking at a 14-inch monitor from a distance of five feet.
Compatible with both iOS and android operating systems, incoming calls and text messages can be viewed through bluetooth connectivity, allowing the goggle to interface with your smartphone, heart rate monitor and music player. social media integration isn't overlooked either: wearers can receive facebook messages in the heads-up-display and respond via HUD canned messages, while also able to share notifications directly to the networking platform. the synthesis of Oakley's optical capabilities, comfort and protection with the integrated virtual technologies bring new possibilities of user engagement and interaction to the elite level sport and performance fields.
Bragi understood an everyday difficulty in the sports field, where athletes enjoy listening to music and measuring their progress and performance while staying active and exercising: headphone cables easily tangle and pull at the ear buds until they ultimately break, and accessing online content from a smartphone while running can be disturbing and dangerous. the brand has solved this frequent issue with 'the dash', a sensor-packed set of performance-tracking wireless earphones, which quickly became one of the most funded kickstarter projects in history. the design is focused on delivering freedom of movement, quality sound and comfort, while working in sync with the wearer. a pair of discrete and completely wireless stereo buds play music through a bluetooth connection or use the embedded 4gb/1000 song music player.
Specifically for athletes, movements like pace, steps, cadence and distance are tracked.
 heart rate, oxygen saturation and energy are measured, all while real-time acoustic feedback is provided. users can engage in the interface without an attached smartphone, monitoring their performance, measuring body vitals, and keeping close track of goals.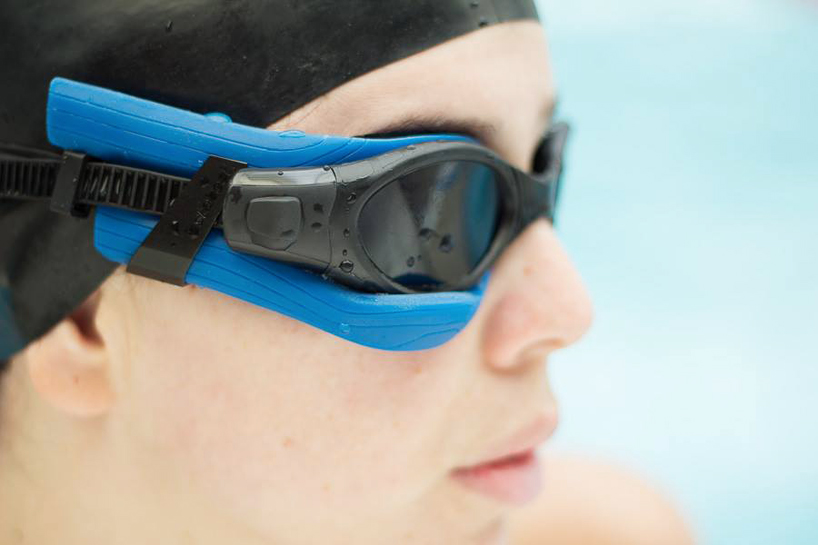 instabeat is a heart rate monitor for swimming mounted onto any set of goggles
image courtesy of instabeat
In the field of swimming, the 'instabeat' heart rate monitor has revolutionized the aquatics field. the waterproof heads-up monitor mounts directly to the straps of any type of underwater goggles, providing real-time visual feedback to optimize and record training sessions.
 adapted to the intricate biomechanics of the sport, the device tracks, stores, and displays instant feedback of the wearer's heart rate during swimming activity. users are prompted to create a customized profile, which is able to measure crucial training parameters like calories, number of laps, number of flip turns and breathing pattern. uploading information after a workout visualizes a detailed analysis over time. additionally, the completely waterproof and accurate properties optimize its design, 
while the thoughtful aerodynamics don't hinder the movement of the athlete or create exterior discomfort which might adversely affect their performance.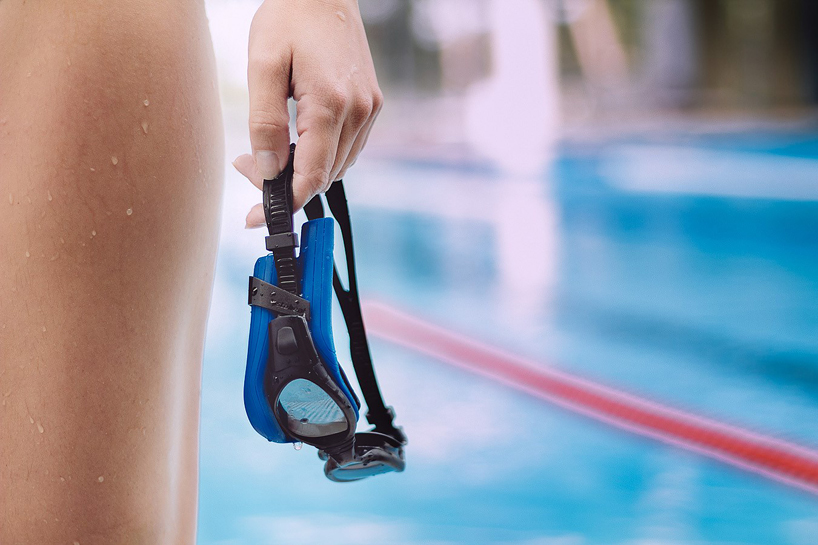 wearers can visualize their heart rate in real-time on the lens while training
image courtesy of instabeat
'Disruptive by design' is about shaking up the norms and challenging yourself to be a game changer – on a large or small scale. whether it's through material innovation, form, social or economic impact – it is all about being a revolutionary thinker. Oakley, in collaboration with designboom is looking for design #disruptors who will challenge expectations and amaze the world with their approach to design.
Do you disregard the usual creative parameters, think unconventionally and want to change the world? then you are a design disruptor. create an innovative design that will disrupt elite sports performance in a way that hasn't been seen before. there are no limits to where your inspiration comes from, and there are no restrictions on the format of your concept. it could be a digital design, garment, new way to use technology, product, even a piece of architecture. the only rule is that it needs to fit the parameters of 'disruptive by design'.
 http://www.designboom.com/design/technology-cutting-edge-design-sport-and-performance-07-22-2014/
by