New Gizmo Blog admins believe that Instabeat is the perfect device for the daughter of one of their writers, who is a professional swimmer! We couldn't agree more! Read about it here: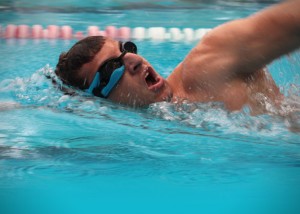 The daughter of one of our bloggers is a very competitive swimmer. In fact this writer predicts we will see her in a future Olympics.  In addition to getting feedback from one of her coaches, we have been looking for devices that will help with her training.
Here is a cool gadget created by a professional swimmer, Hind Hobeika that is intended to provide swimmers with real time monitoring.
The instabeat is the first waterproof monitor. It mounts on to a swimmers goggle and provides them with real-time visual feedback in the lens. In addition to heart rate the swimmer is also provided with crucial training statistics such as calories, flip turns, breathing frequency and amount of laps. In addition to being light weight (0.10 pounds) and water proof, the battery life on the Instabeat lasts for 8 hours on full charge.
The only disappointment of this product is that consumers will have to wait a few months more. Instabeat will not be available for shipping until Q2 of this year.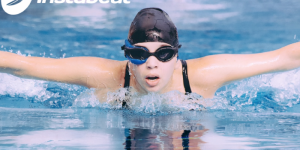 Product Specifications
Dimensions: 5.9 x 2.65 x 0.47 inches
Weight: 0.10 pounds
Water resistance 30m
Battery: Lithium Polymer (8 hours on full charge)
Fast charge in 1 hour, full charge in 2 hours
Mounts on any type of swimming goggles
Measures heart rate without a chest belt
Reflects a color on the lens in real-time to signal speed adjustment
Measures: Heart Rate, Calories, Flip turns, Breathing Frequency, Laps
Availability: Estimated shipping date in Q2, 2014

http://newgizmoblog.com/2014/04/08/train-like-a-champion-with-the-instabeat-all-in-one-swimming-monitor/
by