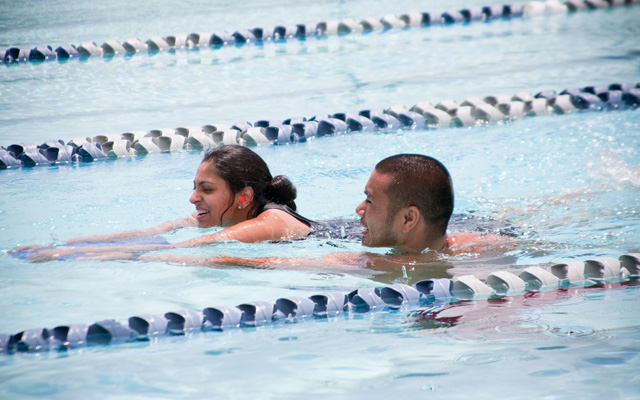 Did you know that April* is Learn-to-Swim Month? No? Me either but it is! Here is something else you probably didn't know: According to the Centers for Disease Control (CDC), approximately 37% of adults in the US can't swim a single length of a 24 yard pool. Crazy, right? Crazy it is, but it's also a complete reality and ultimately very dangerous because it puts these individuals at risk for being one of the ten people that drown every day in the United States.
No need to worry or be embarrassed that you never learned to swim because really and truly it's never too late to learn. Take it from me, I didn't learn until I was almost 30! If you, a family member or a friend doesn't know how to swim, there are plenty of resources to get you started! If fear is holding you back, keep in mind that possessing swimming skills can save your life and the lives of others around you. Learning to swim arms you with skills to prevent drowning, and this is something you can carry with you for the rest of your life. In addition, learning to swim can help you maintain a healthy lifestyle as well as lead to a lifetime of fitness.
If you live in the US (as I do), listed below are some general swim lesson resources I know of off hand. You can also contact local gyms in your area that have pools, because many of them do offer lessons of some sort.
For children:

For children & adults:

YMCA (Contact your local YMCA for details)
*In case you're wondering why the month of April was selected as Learn-to-Swim Month, the reason for this is because April is typically when local pools, lakes, and beaches are preparing or opening up for spring and summer seasons.
  Image source: Splash La Mirada
by